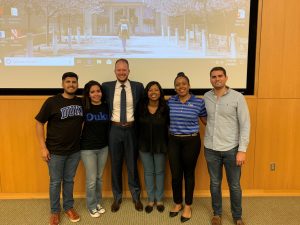 Photos (left) Laurinda & Matt and (right) Ruben, Oriana, Matt, Laurinda, Monique, & Francisco
Matt Miner
April 10th, 2019
Whoa!  Sitting over here at WaDuke thinking about the excellent conversation we had together this morning. Such a delight to be with y'all, with Laurinda, and with Professor Dyreng.  Huge thanks to BLMBAO for this opportunity.
Thanks to all the folks who wanted to chat afterward.  I am honored that our time together was helpful to you.
Thanks to the several of you who asked about copies of the slides.  They are posted below for you to review, anytime.
Wishing you every success with life and money,
Matt Miner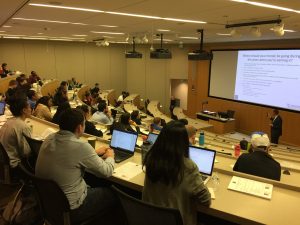 Some additional reference material below:
My website, Design Independence, with lots of content geared to MBAs
Recent interview on Radical Personal Finance podcast about my career transition to planning.
Interview on Masters of Money podcast
Blogs posts I referenced yesterday:
Renting versus owning – Afford Anything
The Shockingly Simple Math – Mr Money Mustache
Book recommendations:
Millionaire Next Door by Stanley is always top of the heap. The idea is that wealth is about habits.
Total Money Makeover by Ramsey is the best motivation book ("why") and the best budgeting book
The Only Investment Guide You'll Ever Need by Chris Tobias is terrific on both PF and investing topics
Personal Finance for Dummies by Tyson is comprehensive and accessible.
If you Can by Bernstein is a great DIY resource.
Your Money or your Life, by Dominguez and Robbins, is the frugality book.  Frugality: you can control your spending and achieve a high savings rate on any income.
The Automatic Millionaire by Bach
Richest Man in Babylon by Clason – seminal in this genre
The Wealthy Barber by Chilton – story based and easy PF content